---
Star Wars Kits
All of the models listed on this page are currently out of production, to the best of our knowledge. The only one that we are not 100% sure about is the Rancor, but since AMT/Ertl has recently dropped their Star Wars and Star Trek lines in favor of "Racing Champions," it's probably a safe bet that these aren't produced any more either.
---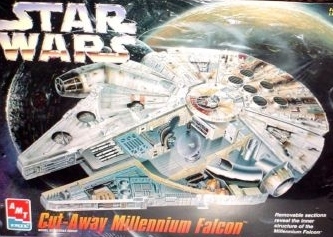 Millennium Falcon Cutaway Model
Sold Out At Present
---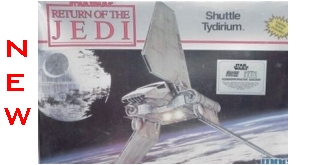 Shuttle Tydirium (very limited stock)
Sold Out At Present
---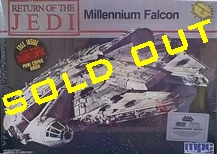 Currently sold out. We're still looking for more.
---
We have a small selection of these out-of-production (OOP) kits, in both the "standard version" shown above, and in the "flight display" kit. The prices are:
Speeder Bike (no flight display) - $35.00 + $6.00 shipping
Speeder Bike w/flight display - $40.00 + $6.00 shipping (in the continental US).
---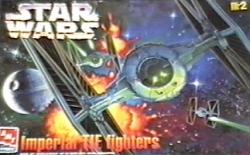 TIE Fighter Kit. This kit comes with two (2) standard TIE Fighters and a Death Star display base. These kits are typically considered far more accurate than the earlier TIE Interceptor kits, and larger than the newer Fine Molds kit.
TIE Fighters - $45 + $6.00 shipping (in the continental US).
---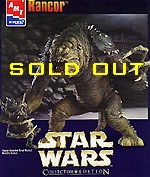 This picture is small, I know, but this is one of the most detailed kits I've personally ever seen, and definitely the most detailed Star Wars kit ever to come from AMT/Ertl. Go to Starship Modeler and check out the detail on this one!
This kit is getting truly hard to find, and is made of vinyl, so the price is a little higher than the others. If you can find one, though, buy it!
---
Foreign Customers Note: These prices are all in US Dollars and are for shipping in the United States only. Please contact us for shipping charges to you!