---
Star Trek Kits
Since AMT/Ertl announced that they were going to discontinue their line of Star Trek models, and since Revell-Monogram made the same announcement earlier this year, the Star Trek series of model kits have been increasingly difficult to find. We have acquired a small collection of these kits and are making them available for sale here on the 'net, until supplies run out. Supplies really are limited, so e-mail if you are certain that you want one, and we'll hold it in your name. We will try to keep this page updated, and will put "SOLD OUT" notices when we run out, but the page may not be updated every time we sell out, so it's best to check before sending payment. In case you see an item that you want is "Sold Out", e-mail us to be put on a "hold list", OR, check HERE to see if you can find what you need!
AMT Star Trek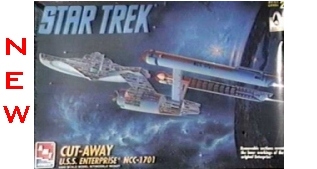 Star Trek (TOS): 22" Enterprise Cutaway $40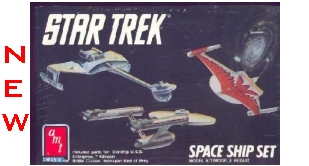 Star Trek (TOS): Original 3 Piece Adversary Set $12
(Enterprise, Klingon Cruiser, Romulan Bird of Prey)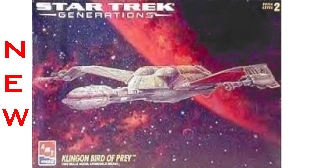 Star Trek Generations: Klingon Bird of Prey $38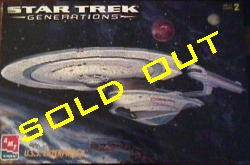 USS Enterprise B (Sold Out At Present)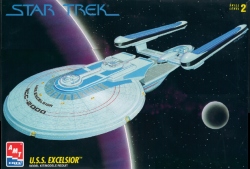 USS Excelsior (Sold Out At Present)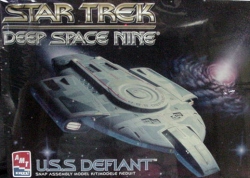 USS Defiant (Sold Out At Present)
Next Generation Klingon Cruiser $35.00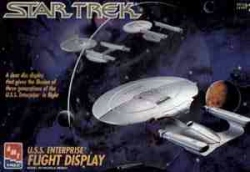 3 piece Enterprise (1701/1701-A/1701-D) Flight display $35.00
Revell-Monogram Star Trek
Maquis Starship $35.00
All prices are in U.S. Dollars. Add $7.00 for shipping in the US. Canada and other foreign customers should e-mail for shipping charges.
---
---