---
The Side Panel Detail Set-20 pieces
The "Guts on the Outside"
Why "Guts on the outside"?
Quite simply, it was what the ILM (Industrial Light and Magic) team called the model work on the Falcon and similar Rebel craft with so much "machinery" on the outside of the craft. I just thought it was a catchy name for the page that dealt with the same topic!
The Falcon Side Panel Detail kit comes with the following parts :
(Numbers in parentheses denote the original kit part it replaces)
Detailed Instructions - Now Online Only -
Left and Right Outer Mandibles (parts 3 & 5)
Left and Right Inner Mandibles (part 68)
Left and Right Rear Quarter Panels (part 4)
Center Mandible "docking hatch" (part 8)
DISTINCT Left and Right "Floodlight" Covers (on the end of the mandibles) (part 71)
New Lower Cockpit Tube (to fit with the smaller side panels) (part 10)
---
The Comparison...
Here are some photos of the Falcon, both original and improved! Wherever possible we have made the effort to show exact corresponding parts.
The Original Kit Parts................................................................The New and Improved Parts!
---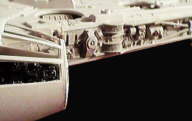 ---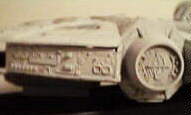 ---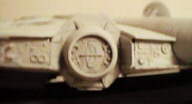 ---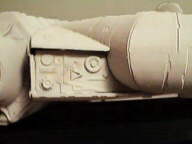 ---
The following two pictures have no comparative picture with the old kit, since you probably know what the old kit looks like anyway. The picture on the left obviously depicts the cockpit side of the Falcon, and the shot on the right is the left side of the Falcon. (Even though these two shots look like two different models, they are the same one photographed under different lighting.)
---
...Compatibility Issues...
The Side Panel Detail kit will work with ANY of the Falcon kits made by Ertl. The Cut-a-way kit will require modification of the floor (part 201), and parts 15,16,26,27 will need to be sanded considerably to allow a proper fit. A more specific discussion of this will be posted on the web page in the coming months (hopefully).
The file Engine.zip contains a ZIP file with engine grill graphics that can be printed out and put behind the clear engine piece of the Falcon to resemble the engine grid as seen in the Special Editions. This works pretty well, and comes courtesy of Steve...whose last name I don't have ! (If you see this Steve, and you know who you are...e-mail me!). One of the pictures is black and white - just print on blue paper and you're set! The other is blue and black for those who have color printers and not blue paper.
---